The Welsh 3000's Challenge
Summary
The Welsh 3000's is a popular challenge where the object is to reach the summit of all 15 mountains in Snowdonia (Wales) that are above 3000 feet within 24 hours.
Route Information
Summits:
Snowdon/Yr Wyddfa – (1,085m)
Garnedd Ugain/Crib y Ddysgl – (1,065m)
Crib Goch – (923m)
Elidir Fawr – (924m)
Y Garn – (947m)
Glyder Fawr – (1,001m)
Castell y Gwynt – (972m)
Glyder Fach – (994m)
Tryfan – (918m)
Pen yr Ole Wen – (978m)
Carnedd Dafydd – (1,044m)
Carnedd Llewelyn – (1,064m)
Yr Elen – (962m)
Foel Grach – (976m)
Garnedd Uchaf – (926m)
Foel-fras – (942 m)
Other POI: Cwm Glas Mawr, Pen-y-Pass, Nant Peris, Bwlch y Marchlyn, Marchlyn Mawr Reservoir, Bwlch y Brecan, Lyn y Cwm, Bwlch Tryfan, Idwal Cottage, Llyn Ogwen, Bwlch yr Ole Wen, Carnedd Fach, Ysgolion Duon (Black ladders), Gwaun y Garnedd
Route Description
The Welsh 3000's was my big challenge for this year and something I'd wanted to do for some time. The concept is simple… 15 peaks in 24 hours with the clock starting from the second you leave the official summit point of Snowdon, and ending when you reach the trig point of Foel-fras. The 15 peaks are split up into 3 mountain ranges – Snowdon (comprising of half of the Snowdon horseshoe), The Glyders, and the Carneddau. I'd been on a few large walks previous to this attempt in order to get myself fit, however I probably should have done a lot more. I was feeling confident though…
Preparations
We woke at around midnight on Saturday after a rather pointless 2 hour sleep to prepare for the day ahead. We had slept in our cars in a car park at Capel Curig with some great views of the Snowdon range. The preparations involved leaving a car a reasonable distance from Foel Fras (the finish point), which ended up being Bethesda, and leaving some drinks supplies well hidden under some rocks at the bottom of the route up to Pen yr Ole Wen. We then headed to Llanberis Pass to park the car and headed up to Pen-y-Pass on foot. In the car park at Pen-y-Pass, we took shelter from the increasingly heavy bursts of rain and wind whilst contemplating if the bad weather was enough of a reason to think about abandoning this attempt at the Welsh 3000s. We decided to brave it and start the ascent of Snowdon via the Pyg Track. I'm not sure of the exact time at this point but I don't think it was any earlier than 2.30am
Snowdon
As we progressed, the rain seemed to get harder, and the bursts of wind became gale force in strength, making some real attempts to blow us off the track. The hood on my jacket annoyingly kept blowing back down and so I had to physically hold it in place for a period of time. The track was making a handy outlet for all the water coming down off Snowdon and Crib Goch and so at times it became a stream rather than a path. Around this point I discovered that my boots really weren't as waterproof as they used to be and my feet became somewhat soggy. We encountered a few people on their way down from Snowdon – some had gone up there to watch the sunrise but the bad weather had forced them to make their escape, and a couple we encountered were just finishing the National Three Peaks challenge. Eventually we arrived at the top and had a brief rest, using the cafe as a handy wind shield. It was light at this point and we spent a short while musing on the safety of traversing Crib Goch in the still very strong gusts of wind. After the compulsory short climb to officially summit Snowdon, we decided to continue towards Crib Goch with the hope that the weather would improve – as the weather forecasts promised.
Crib y Ddysgl and Crib Goch
Not long after heading towards Crib y Ddysgl (no idea how that's pronounced!), the wind eased off, the rain stopped and all of a sudden, all was good! Crib Goch was interesting as expected, and not particularly difficult at all as the main pinnacles could easily be avoided by skirting round the side. The ridge itself doesn't take long to do and it was over with before I knew it. We curved round onto the North ridge before descending down the scree to the green grass below. Unfortunately the green grass had become extremely boggy in many places due to all the rain, and this slowed us down considerably. Route finding wasn't easy but after much stream hopping and bog skirting, we eventually made it back to the road and the car.
At this point, I was going to change my socks for a nice dry pair but decided there wasn't a lot of point due to my boots being saturated inside. Off with the waterproofs and on we headed to Elidir Fawr.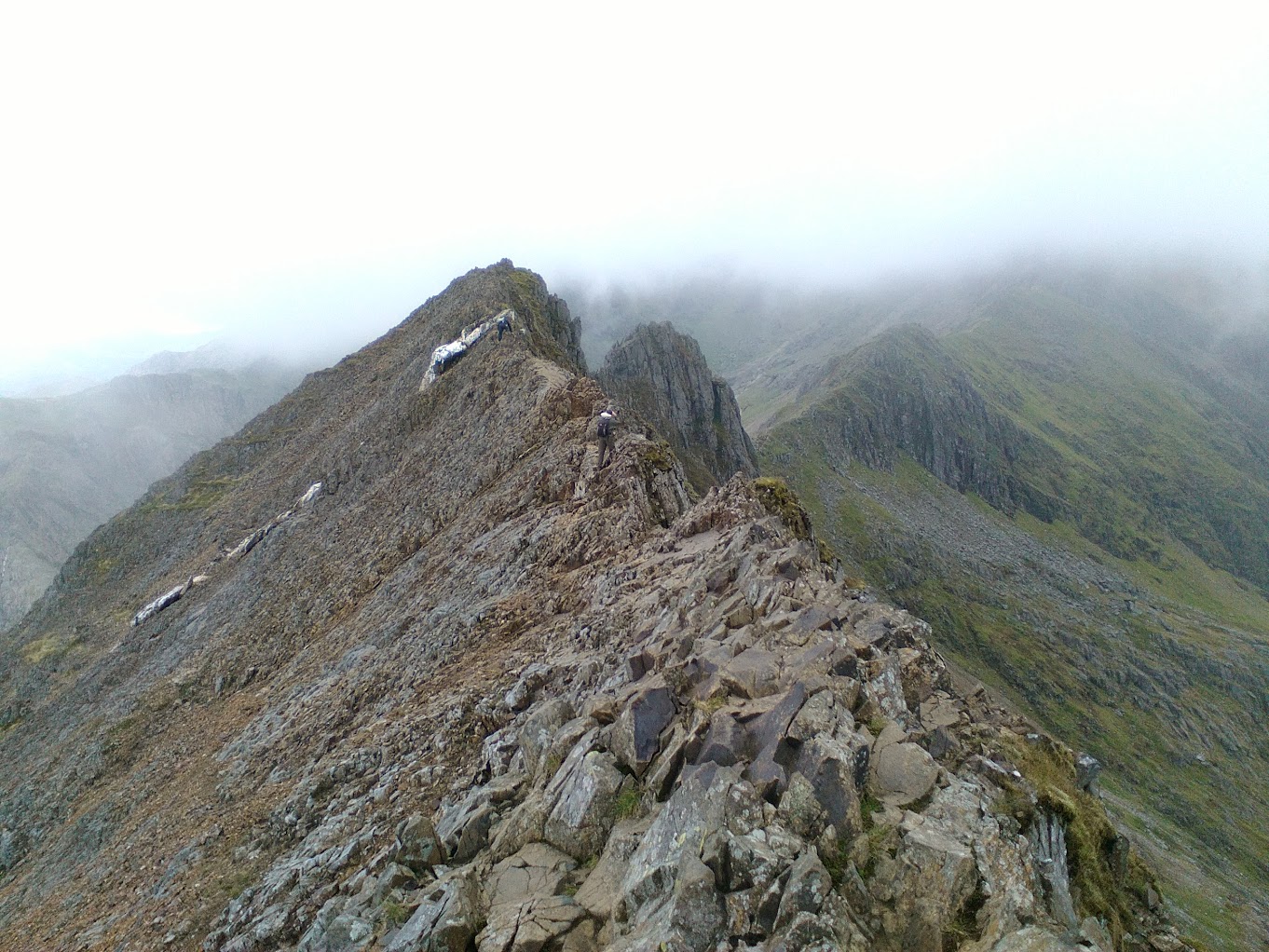 Elidir Fawr
For me, this was the hardest part of the actual challenge. Elidir Fawr is just a constant steep slog uphill, and it seemingly goes on forever! I really struggled here and needed to stop for breath every 30 seconds as I approached the upper half of the climb. I thought that the climb was genuinely killing me and I felt about as fit as an asthmatic pensioner that hadn't worked out in 50 years. The top never seemed to get any closer no matter how hard I pushed myself forward, and this was hugely demotivating. My walking partner for this challenge stormed up without even pausing for breath. Bastard! Don't know how he does it.
After much wheezing, fits of tourettes syndrome, and pathetic attempts to drag myself further uphill using my walking poles, I eventually reached the top and was rewarded by some amazing views – and some much needed food and water. The walk from the summit became a little nicer, easier going, and scenic for a while as the route followed a U shaped ridge, exposing more great views and allowing me to get my strength back on the level ground. Eventually we arrived at the beginning of the next ascent that would eventually lead to Y Garn.
Y Garn, The Glyders, and Tryfan
The route to the summit of Y Garn was steep but thankfully fairly short and sweet. From here, there was a clear view of the descent to Llyn y Cwn and the rise back up to Glyder Fawr. The walking was still pleasant enough from here and not too much effort was spent in the ascent and descent of Y Garn, or maybe it was because I was still reeling from that ascent up Elidir Fawr and anything else was OK in comparison! As we approached Glyder Fawr, I started to see that the next ascent wasn't going to be quite as effortless. The route up was via a horrible scree path which quickly managed to sap any energy that I'd managed to build up since Elidir Fawr. Once up though, it became quite enjoyable for a while with a stroll across the boulder ridden tops of the Glyders, taking in the magnificent views all around of Ogwen Valley, the Snowdon Horseshoe, Tryfan, Gribin Ridge, and Cwm Idwal. Also included was a great little scramble over Castell y Gwynt to make things more interesting. I think I'd recovered a bit by this point as I don't recall the descent down the scree to the right of Bristly ridge anywhere near as bad as I expected. The slog up to the Tryfan summit on the other hand was fairly slow and I felt that my legs had definitely lost strength since the beginning of the challenge walk. I think that, mentally, I was starting to go into autopilot a little bit.  We descended down the gully on the west face, that starts in the col between the main summit and the north peak. The gully was steep and a lot of care had to be taken but the steepness also meant we descended quickly and it didn't seem like long at all before we were on the grassy slopes heading to the A5. The most disappointing part of this was I'd been telling myself all day that I was going to indulge in an ice cream from the shop when we got to Idwal Cottage – but by the time we got there it was 7pm and shop was well and truly closed. Damn.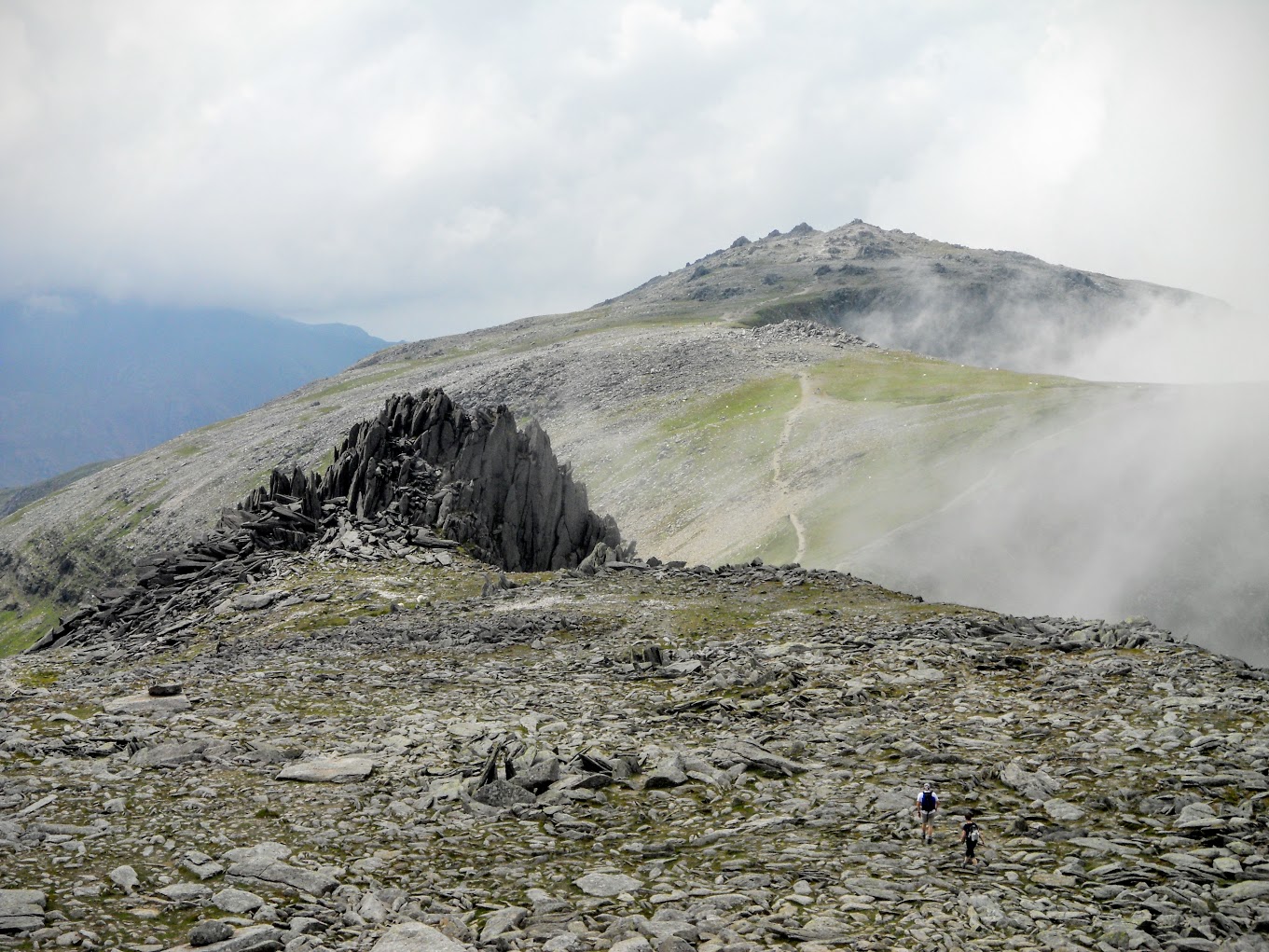 Pen yr Ole Wen
I'd now been awake for 19 hours after a sleep of only 2 hours, and I was feeling very weary. My legs, however, felt in much better condition than I would have had expected. I really do think that my knee braces and walking poles got me through this challenge. I'd have been in pain well before now without them. Onwards and upwards we went – only 7 more summits to go and daylight hours almost over. I tried not to dwell on that too much. After picking up drink supplies that we had hidden earlier, the path up to the summit was very long and very steep, and not always easy to see in the latter stages. I was feeling quite resilient though and kept pushing on – foolishly thinking that there wasn't long to go now before the end of the challenge. With daylight fading a little, the views back over towards Tryfan and the Glyders were still visible enough to admire. A brief but well deserved rest was had at the summit, and a few extra layers added due to the rapidly dropping temperature.
Carnedd Dafydd, Carnedd Llewelyn, and Yr Elen
From this point on, the walking became easier. There were no more leg destroying steep ascents. All that was out of the way now. We followed the ridge to Carnedd Dafydd and then followed the track along Cefn Ysgolion Duon (which apparently means 'black ladder') until we reached the slope leading up to Llewelyn. Progress was a little slow as I don't think we chose the most efficient route past the black ladder area. The ground was very rocky and uneven, and by this point darkness had fallen and we were now navigating by torchlight.
We skirted along the slope of Llewelyn towards Yr Elen, however route finding was becoming very difficult. Surrounded by blackness and not being able to use the landscape to help with orientation, it seemed to be taking us some time to find the way across to Yr Elen. After much shining of torches down into what seemed like infinite blackness, eventually we spotted the route. The ascent up to the summit of Yr Elen was fairly straight forward and, to be honest, energy didn't really feel like a problem anymore. I was weary for sure, but the legs were well and truly on autopilot now. I felt like I could plod on forever (it actually already felt like forever). Locating the summit point of Yr Elen was a problem as we seemed to have more than one option and it wasn't clearly marked – as seemed to be the case in the next couple of summits too. If in doubt, go to all possible options! Once done, it was a case of retracing our steps back across to the slope of Carnedd llewelyn and then ascending to the summit where we, again, aimlessly wandered around with torches looking for something that looked like an official summit! Once we'd done that, we headed north-east gently downhill towards Foel Grach – taking care to stay well clear of the very steep edges so as to not accidentally step off the edge of the mountain into the black empty space below. It was around this point that I removed the knee braces as they were starting to really rub at the side of my knee. They're probably not designed for this many hours of constant hiking.
Foel Grach, Garnedd Uchaf, Foel-fras
This is the part of the challenge I can't really describe all that well. It just felt like 2 or 3 hours of wandering across grassy slopes with boulder ridden summits in the darkness. I was well weary at this point, and just looking forward to finishing soon. It's hard to talk about routes or scenery as it was all so black. Strangely, I felt absolutely fine physically and was having no trouble at all walking to the last 3 summits. Mentally, I was absolutely exhausted and was starting to feel a little dreamy, like none of this was quite real. The last summit – Foel Grach – was a bit of an anti climax really. The summit was reached via a long and intermittently boggy path leading up a wet grassy slope. Maybe it would have felt more like a mountain if I could have seen the scenery, but in the darkness it felt more like a muddy walk in the Peak District than a Snowdonian mountain.
Total time taken: 20 hours and 23 minutes
The walk back to the car
Once the last summit was reached we headed back to Bethesda where the car was parked. This was actually the worst part of the whole walk. Once the last summit had been achieved, I knew that I'd finished the challenge and all the motivation and sheer will power that had kept me going this long just disappeared. The trek back across wet soggy grassland, on meandering footpaths that were barely visible, was just awful. I hated every second. On top of this, I was starting to feel slightly delirious from sleep deprivation and at one point was worried that a member of our party was missing before remembering that there was actually only 2 of us to begin with and not 3. As it started to go light, I realised I was crossing a field full of horses, some of which were standing only feet away. I have an irrational fear of horses so this didn't go down well with me. I think I may have resorted to talking to myself lots around this point as I edged nearer and nearer to delirium. Eventually, the end was in sight. Just one big descent to go – but as I started descending, I started to get that excruciating pain around the knees that completely stopped me from being able to walk downhill properly. This happens sometimes and is the reason I wore the knee braces and used walking poles. I'm not sure it's the actual knees that are at fault as they seem to completely recover a day later. I suspect it's cause is muscular, and refers the pain to my knee. Anyway, after a very long, slow, and painful descent whilst walking sideways, and even backwards at times, I eventually hit the bottom where a short path led us back to the car. We picked my car up and drove back to Capel Curig where I slept for 3 hours before waking and getting myself a full English breakfast at the nearby cafe. I was still completely knackered but just couldn't face the prospect of attempting to get back to sleep in the car. I attempted the drive home to Nottingham, stopping at every service station on the way for a coffee – and I'm pleased to say I made it!
Completed on 20th July 2015, at 02.33am
Thoughts…
For anybody reading this post and thinking of attempting the challenge, let me say that the amount of food I took was nowhere near enough to cover the energy being expended. I was also rationing my drink at the end and completely ran out with another 4 hours of walking still to do. I think that, with extra food and water, I wouldn't have felt so weary on the last section.
If I ever attempted it again, I really do think I'd do it the other way around by starting in the dark at Foel-fras and aiming to finish at Snowdon in the light. My reasons for this are as follows:
The route would have been more interesting as it would have incorporated the Tryfan north ridge scramble, the Bristly ridge scramble, and the scramble on the ascent of Crib Goch.
The descent back to the car after reaching the final summit would be quite simple and a lot shorter than finishing at Foel-fras.
The horrible, crumbly, scree slope descents from the Crib Goch north ridge, Tryfan West Gully, and the Glyders would be completely cut out.
The relentless slog up Elidir Fawr would also be cut out.
The most mundane part of the walk would be done first whilst energy levels and motivation were high. The most exciting parts would come in the second half to help lift flagging motivation.
The shop on the A5 in Ogwen Valley would almost certainly be open!
Equipment/Clothes Used
Walking Pole
Sun Hat
Cheap waterproof over trousers
Goretex Army Surplus jacket
Wicking base layer and Fleece mid layer
Lightweight quick drying trousers
Leather walking boots
Bridgedale trekking socks
Medical Items Used
Knee Braces
Ibuprofen
Food and Drink Consumed
Caffeine shot
Around 6 litres of fluid
Electrolyte dissolvable tablets
4 protein bars, a bag of dried pineapple, and a large packet of peanuts, chocolate, and raisins.
Map and Elevation Data:
To see this map cookies and javascript must be enabled. If you are still having trouble after having checked both of these please contact us using the link at the top of the page
Interactive Map
Useful Links
GPX file for the walk
Good route information from welsh3000s.co.uk
The Welsh 3000s database at 14peaks.com
My Google photo album from the walk