Clogwyn y Person Arete Scramble
Snowdonia's classic Clogwyn y Person Arête scramble was my destination earlier in the week, and it was a scramble I'd been wanting to do for some time. There are two main ways to get up onto the arête. One of them is via the Parsons Nose, which is more of a rock climb than a scramble, and the other is via the right hand wall of the west gully – which is the common route that the everyday scrambler tends to take. Both routes would likely be given at least grade 3 but much depends on the specific route you take once on the actual arête. If most of the difficult options are bypassed (the crux unfortunately cannot be bypassed) then I'd personally say that it had more in common with a grade 2 scramble. I'm sure many will disagree!
Anyway, backtracking slightly, we set off from a layby on the A4086, about a mile south-east of Gwastadnant, and headed up the the track towards Cwm Glas Mawr (which apparently means 'big green valley') and then onto our first scramble of the day on Cyrn Las, which despite being short, also livened up the approach. Specifically, the scramble ascends the right hand section of Cyrn Las, between the main cliffs and the waterfall. I can't be sure, but I believe that this would be classed as a grade 1+ scramble, with a short grade 3 option just to the left at the start (pictured below) which can be skipped.
It wasn't long after this that we were met with the view of the pretty Llyn Glas, with it's picturesque little island, as well as a proper view of the impressive Clogwyn y Person arête with it's daunting looking steep cliffs. Carl (my scrambling partner for the day) split off from me here to try out a grade 3 variant up the right hand edge of the Parsons Nose, whilst I started the ascent of the right hand wall of the gully until I was just a little higher than the top of Parsons Nose. I took a couple of quick snaps of Carl atop the Nose and watched him climb down into the gap between that and the Clogwyn y Person arête proper. It was a move I was glad I wasn't doing!
After Carl reached me, we made an attempt at the first difficult wall of the day in a recessed area, giving a feeling of protection and helping me psychologically (I hate sheer drops!). A bit of bridging was in order to get myself high enough to reach the first available foothold; a loose flake that wobbled suspiciously but seemed to take my weight well enough. Once I pushed off from this, it was relatively simple to get myself up and over the wall. If the ascent of the wall looks out of your comfort zone then it can be bypassed on the right via a short airy traverse along a ledge. Unfortunately, I was so caught up in the moment that I completely forgot to take a photograph of the obstacle, but I did manage to capture the remaining difficulties from this point onwards.
Shortly afterwards came the second difficulty; another steep wall lacking much in the way of handholds. I believe that this is considered to be the crux of the Clogwyn y Person arête as I didn't see any obvious way to bypass it*. Nice 'juggy' handholds can be reached at the top, and with a bit of help from a toe jam, it's not too difficult to pull yourself up although some decent upper body strength helps a bit.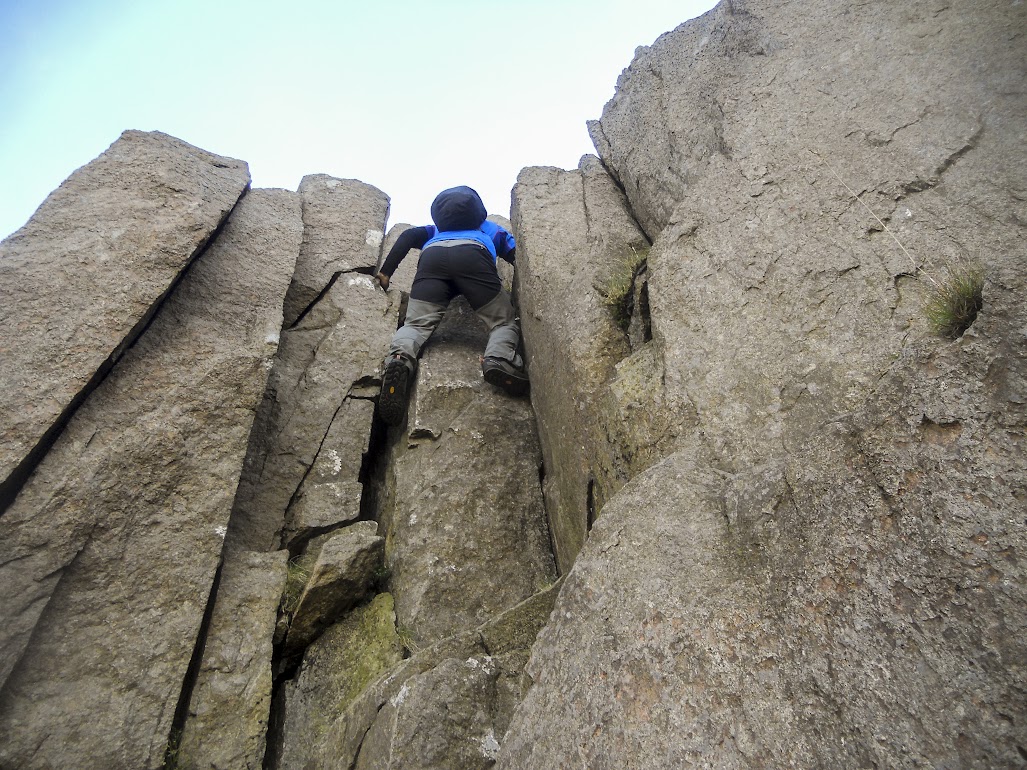 Onwards and upwards we went, following the line of the Clogwyn y Person's crest and being careful not to stray too far to the right, where it's quite possible to go off route and end up in rather steeper climbing territory. The next obstacle of note was an area of a few tumbled boulders which turned out to be simple enough to climb over although at first glance, it appeared as though the way forward was to go underneath them. From here, the route led us to the last tricky obstacle of the day; a V groove that was ascended using a chimney manoeuvre. My backpack got in the way a little for this although I managed to get up without too much drama. It's also possible to bypass this entirely should it appear too daunting.
The quality climbing ends shortly after this, which was a little disappointing as I was really enjoying myself and wanted it to go on for much longer. Once on top, it was a simple scrambly walk up to Garnedd Ugain, where we headed towards Crib Goch and descended left at Bwlch Coch and down into Cwm Uchaf. From here, we walked the slightly boggy route back through Cwm Glas Mawr and to the car.
It was a great days scrambling on a classic route, and it's surely one that I'll be repeating again someday. We actually went on to do another scramble in the afternoon, but I've promised to keep my lips sealed about this as it's a newly devised route designed to be added to next years revised edition of Steve Ashtons Scrambles in Snowdonia book, which Carl is currently working on.
The only minus of the day was that I well and truly ruined my legs, and I'm still in pain when walking down stairs three days later! My quads have never felt so tender. A quick bit of research tells me that I need to start doing a bit of eccentric training at the gym, and a bit of downhill running in order to condition the legs – so I'll be working on that between now and the next time.
* Note: The first wall that can be bypassed, the second wall that I have called the crux, and the V groove that requires the chimney manoeuvre are all – in my opinion – worthy of being called a crux as they are all equally difficult. I labelled the second wall the crux as I didn't spot any obvious way to bypass however, since then, a fellow scrambler has informed me that this second wall can be bypassed via an easy chimney on the right. I personally don't recall seeing this so will have to take a look the next time I do the route.
Interactive map of the full route to and from the Clogwyn y Person arête :

To see this map cookies and javascript must be enabled. If you are still having trouble after having checked both of these please contact us using the link at the top of the page
Useful Links:
My photo album on Google Photos
My photo album on Flickr
GPX file for the route
UKClimbing.com entry for the Clogwyn y Person scramble
An article on the scramble from Cicerones website