Bochlwyd Horseshoe via Bastow Buttress
Summary
The Bochlwyd Horseshoe is one of Snowdonia's classic scrambles. The route most commonly comprises of three popular scrambles: the Tryfan North Ridge, Bristly Ridge up to Glyder Fach, and the Y Gribin Ridge during the descent. For the more adventurous, there are numerous variations that can be applied to the route such as accessing the north ridge via Milestone Gully or Nor Nor Groove, or accessing Glyder Fach via Main Gully rather than Bristly Ridge. On this occasion, I chose to access Tryfan's north ridge via the Bastow Buttress scramble route
Route Information
Area: Snowdonia – Glyderau
Summits:
Tryfan – (Height: 917.5m, Drop: 191m)
Glyder Fach – (Height: 994.3m, Drop: 74.5m)
Castell y Gwynt – (Height: 972m, Drop: 16m)
Other POI: Gwern Fof Uchaf, Tryfan Bach, Heather Terrace, Bastow Buttress, Tryfan North Tower, Tryfan North, Adam & Eve, Tryfan South Ridge, Bwlch Tryfan, Bristly Ridge, Llyn Bochlwyd, Llyn Idwal, Idwal Cottage, Llyn Ogwen
Route Description:
The Bochlwyd Horseshoe – which is made up of Tryfan, Bristly Ridge, Glyder Fach, and Y Gribin – is one of my favourite walks in Snowdonia. I'd probably rate even higher than the better known Snowdon Horseshoe (it's a close call though). It's the perfect blend of great views and exciting scrambles and, at only just over 4 miles long (excluding road walking), easily do-able in only handful of hours. Being the kind of person that's never happy and always wanting to improve things, I did a little bit of research to see if I could spice it up further by adding extra scrambling to the Tryfan ascent. After much reading, I ended up selecting Bastow Buttress on the east face of Tryfan which apparently is a grade 2/3 scramble. It was a bit of a risky choice as I'd already committed myself to doing it solo and ropeless, and my only knowledge of the route was taken from a YouTube video. (which I've embedded below – ©Neil Butterton). For those wanting to stick to the more traditional horseshoe route, I have links to the GPX files for both options at the end of this post.
The A5 was busy by the time I arrived at 10.30am, and all the roadside parking and car parks were already full. I ended up paying a quid to park on the grass at the Gwern Fof Uchaf campsite. I followed the path from there, up the steep hill past Tryfan Bach which was busy with climbers as usual, and eventually to the start of heather terrace – which is the track that skirts around the side of Tryfan along it's east face.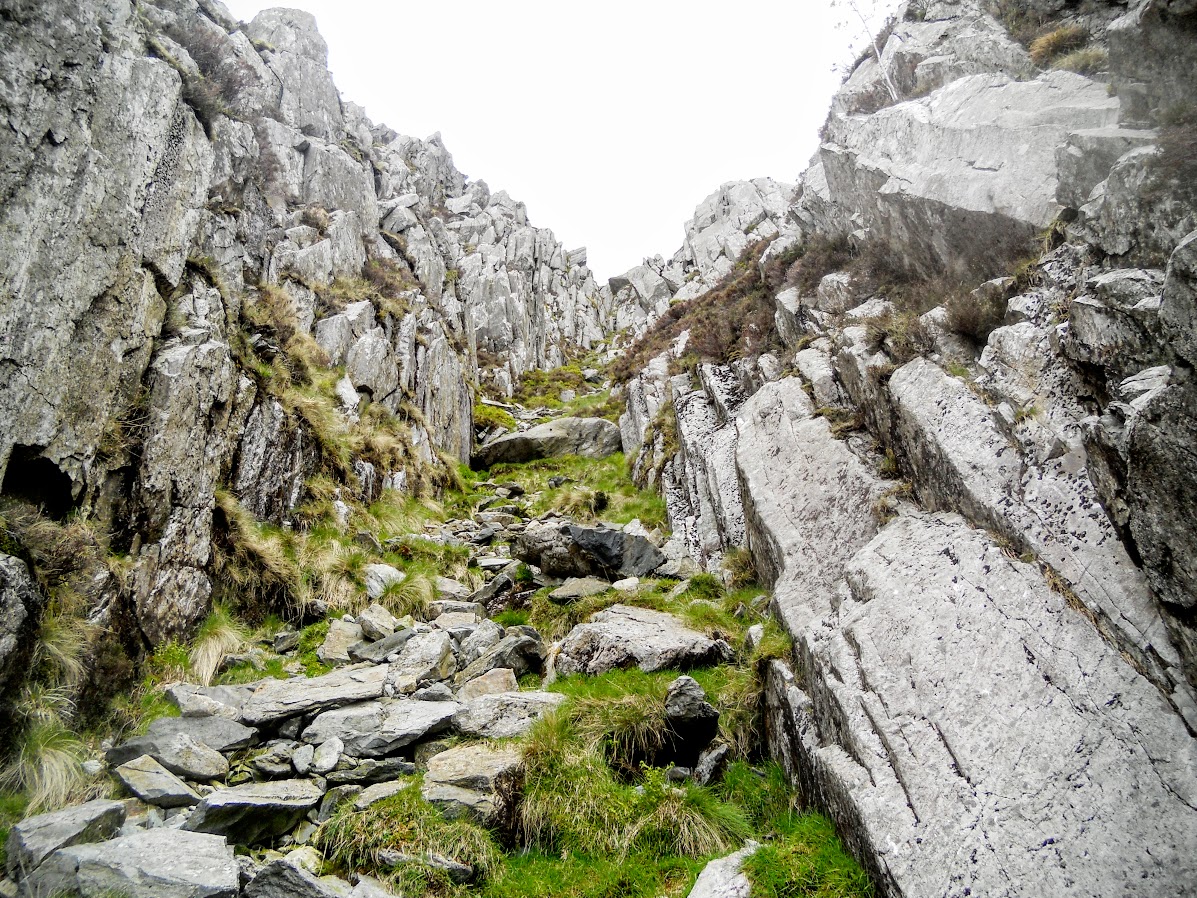 Bastow Gully was easy enough to find as it's the first gully you get to when walking along heather terrace. The scramble starts a few metres up this gully on the right hand side. I actually found the first few moves that get you up and onto the buttress the hardest, with footholds difficult to find. I mainly followed the rib of rock closest to the gully on the way up, as this seemed to offer the most interesting scrambling with the airiest exposure. Easier options were available at various points during the ascent to avoid the most exposed parts. Overall, I thought the route was fairly simple for it's grade once you're up and onto the ridge although it's possible I accidentally missed some of the harder bits.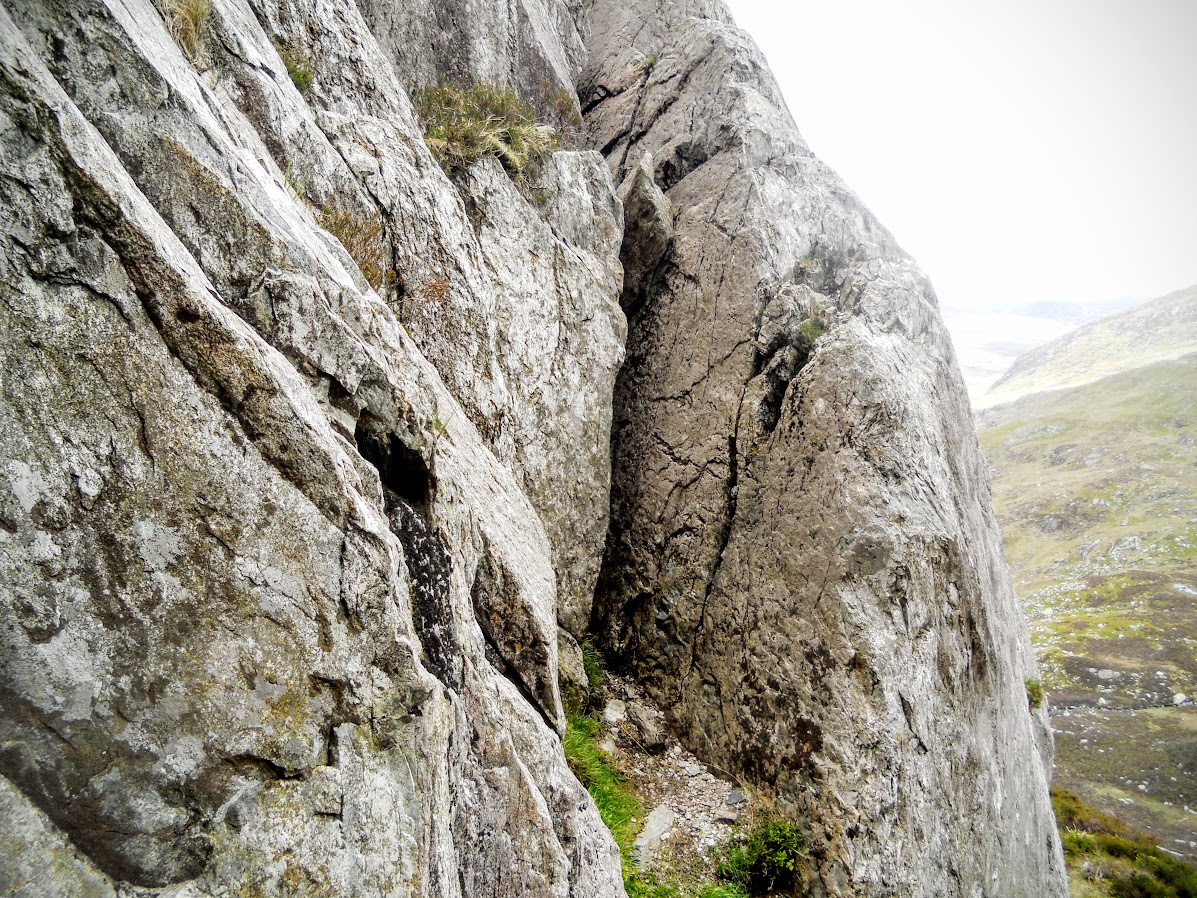 The best thing about Bastow Buttress is that it exits onto the north ridge of Tryfan just before the most interesting part of the north ridge scrambling starts – known as the nose, so I went straight onto this without pause. I've been up Tryfan several times now and I think I always manage to go a completely different route each time. That's the great thing about this wonderful lump of rock – there's so much variation. The top of Tryfan was fairly busy although not quite as busy as I was expecting considering the amount of parked cars I saw at the start. I didn't hang about as it was surprisingly chilly on top, and so I headed straight down the south ridge and then trudged up the scree slope to the start of Bristly Ridge.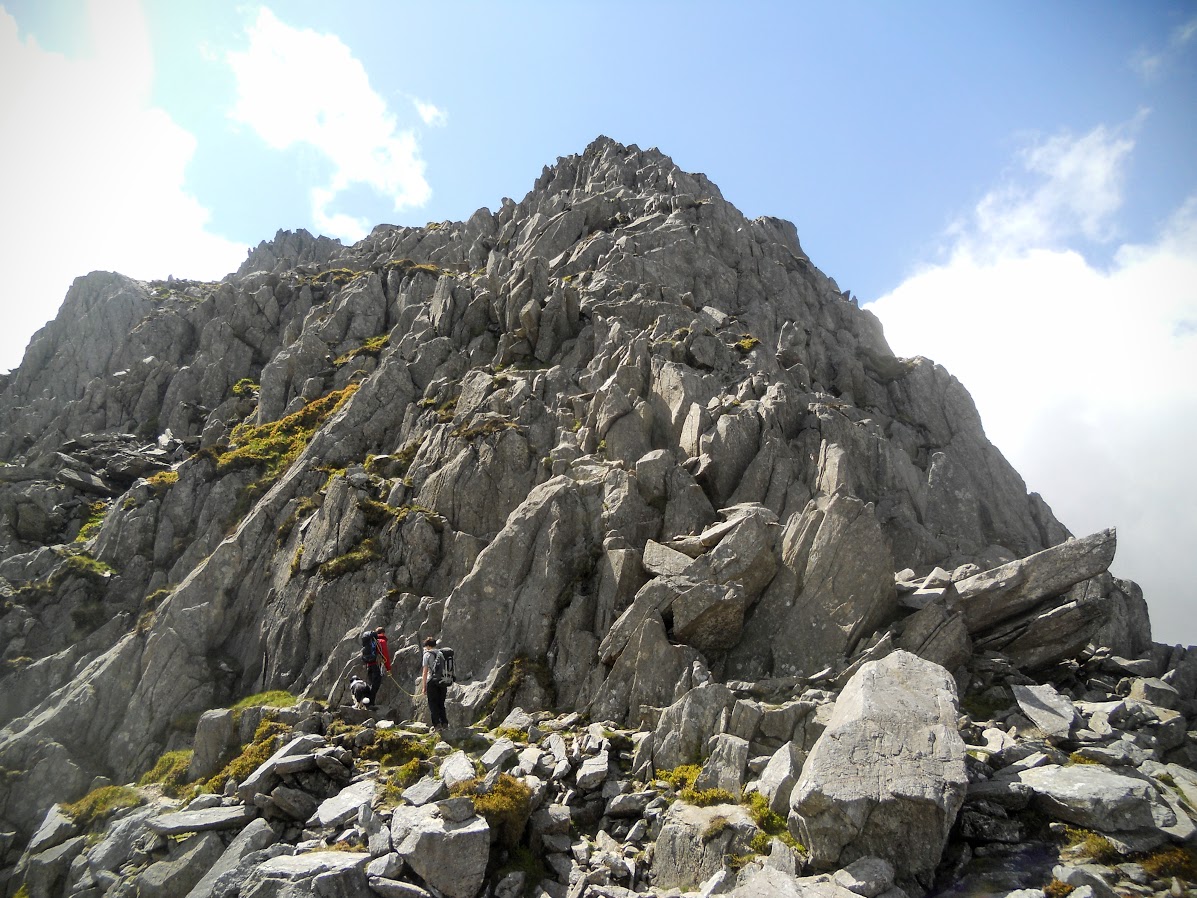 The last time I climbed Bristly Ridge, I ascended via Main Gully so this time I decided to try Sinister Gully which, despite it being technically easier, was also more enjoyable thanks to foot and handholds galore, and no worrying about loose rock. Sinister Gully is the one on the left of the ridge – nearest the wall. Main Gully is a little to it's right. Around this point, the wind seemed to be pick up and the temperature dropped a bit more. I stopped and added a fleece layer to what I was wearing. The ridge was fun, as I fully expected it to be, and Great Pinnacle Gap further up seemed a bit scarier than the last time I did it – more desolate and intimidating. Tryfan might be the more famous out of the two ridges, but I personally think Bristly Ridge is the better and more enjoyable. It's just a shame it's so short.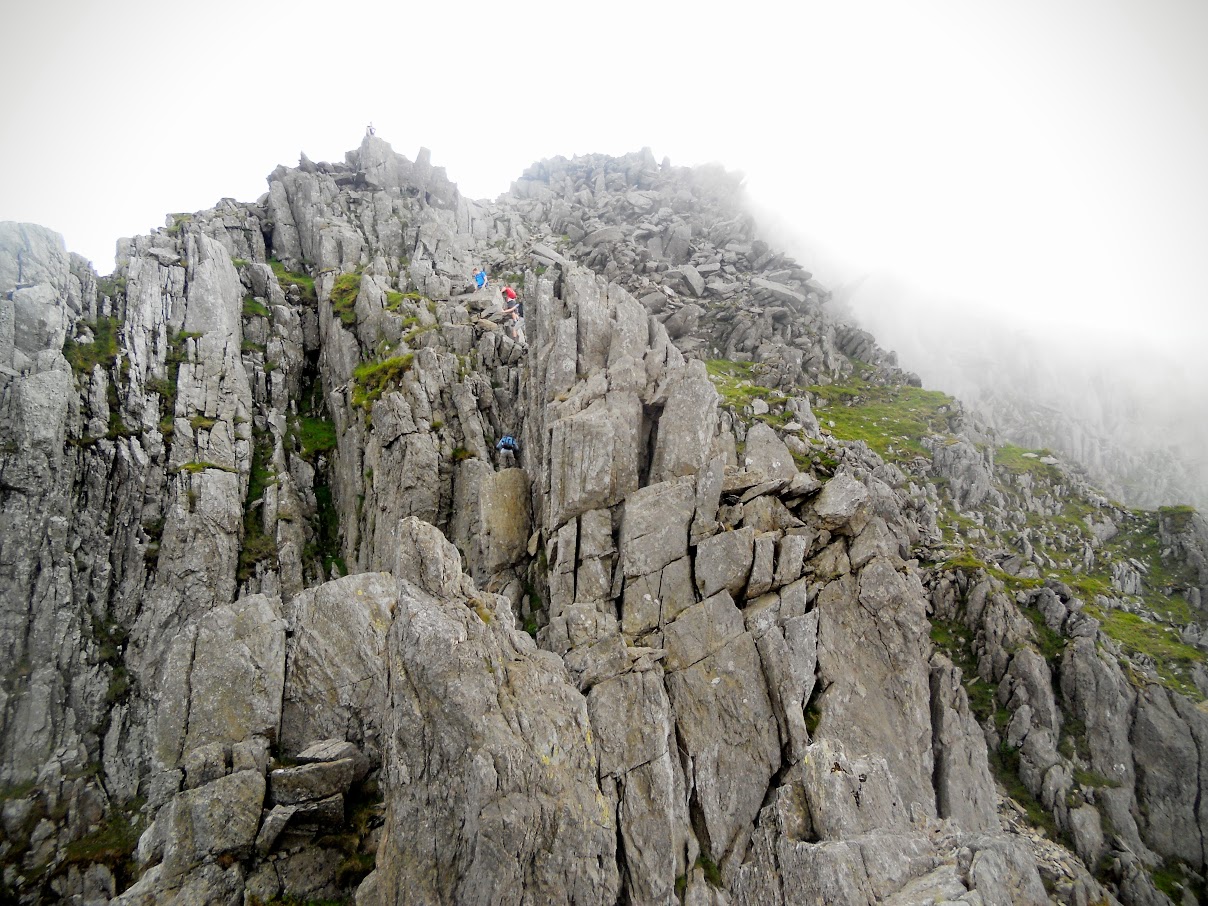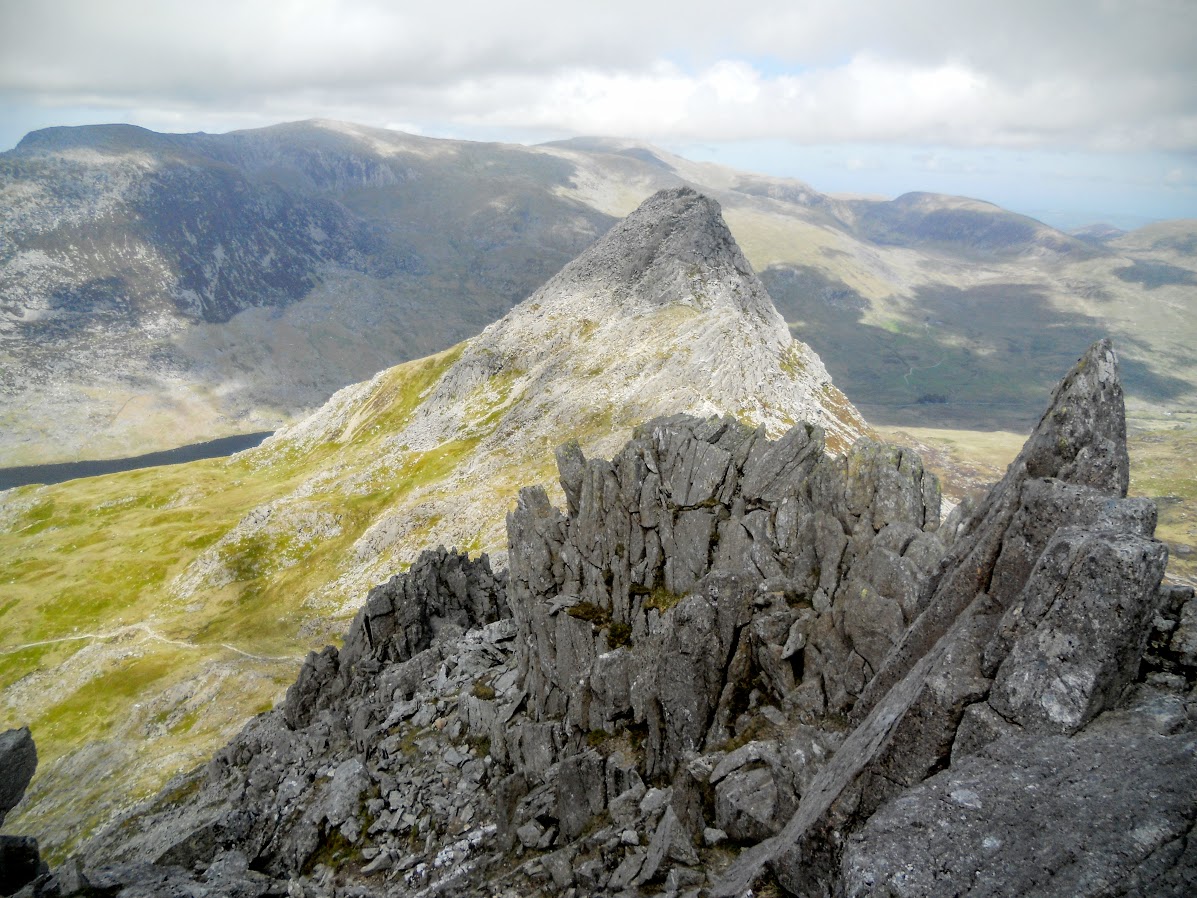 I spent a bit of time on Glyder Fach and Glyder Fawr aimlessly wandering about when an RAF rescue helicopter flew close over my head before circling around and heading towards Snowdon. About 10 minutes later, a coastguard helicopter also followed it.
I headed back down Y Gribin Ridge and had a little look at the Cneifion Arete, which fascinates me and I'd love to have a go at it sometime. The only thing putting me off is the top section where there appears to be a sheer vertical wall to scale. It looks extremely daunting and I can't work out how I'd get up it unless its ascended on the other side that's not visible.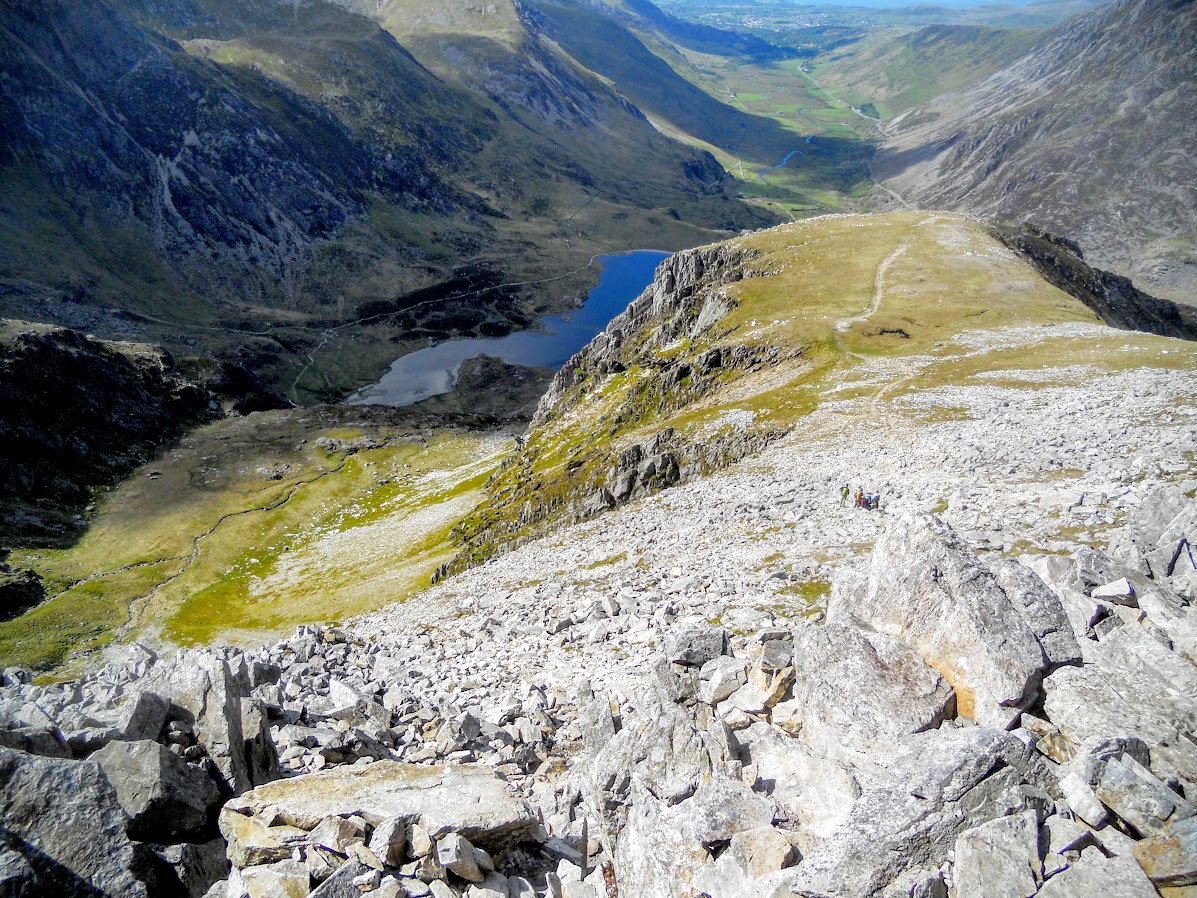 I also had a chance to test my new walking poles on the final descent from Y Gribin as my knees started to feel a little painful. I have to say they helped quite a lot, and not just with the knees but with balance too on all the crumbly uneven steps down.
On arriving home I discovered that there'd been an incident at Llanberis Falls earlier in the day where 2 people had drowned and another 2 injured whilst apparently swimming in the white water in a rocky pool at the bottom of the fall. I assume that's where the 2 helicopters I saw earlier were heading – a sad end to an otherwise great day scrambling, and a reminder that the mountains can be a dangerous place, and should be treated with respect.
Completed on 7th June, 2015
Map and Elevation Data:
To see this map cookies and javascript must be enabled. If you are still having trouble after having checked both of these please contact us using the link at the top of the page
Interactive Map
Useful Links
summitpost.org – Bochlwyd Horseshoe
GPX file for the walk – Traditional route
Glyder Fach – Wikipedia page
Tryfan – Wikipedia page
Photo Album (Google Photos)
Photo Album from another occasion (Google Photos)
mudandroutes.com Glyderau page